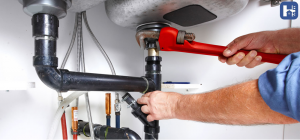 Living smartly is directly proportional to type of facilities you have. The facilities may ranges from your home sweet home to your working compound. Almost everyone needs a shelter to live comfortably including modular kitchen, modular bathroom, underground water supply, closed sewage and drainage lines, clean and clear washbasins etc.
Now consider the situation which may spoil for happy living dream and can damage the barricade of trust…..doesn't get it? Now let us clear the point that what would you feel after noticing a leakage from drainage line in the middle of aisle or choked channel drain which resist the flow of used water in bathroom. It does force you to scribble your head with a notion of "What to do now?"
Let's have a look on common Plumbing issue and solutions,
Supply Pipe and Tap Leakage
This is the most common issue in almost every house or apartments which occur randomly without any notification. The reason behind water pipe leakage might be any external force or loose joint between two pipes. External hammering may also affect the joint and can damage the pipe line too. While taps are regularly operated appliances and can be break due to extra pressure after getting old. Imbalanced fitting also led to leakage in taps and pipe joints. The elementary solution of these problems are done by using Quick fix solution, m-seal application etc. In case of unbearable damage you must be look for Plumber.
Wash Basin Problem
Another most common problem is chocked washbasin outlet or jammed faucet. You may have implemented both wall hanging and standing type but the problem is same. When the drainage line become chocked, elementary option is to pick a thin stick and try to poke in drain holes may be there are some hair web or cotton at the upward side which block the waste water flow. If there is no clue found then we suggest to go for nearest plumber without washing your hand. In case of faucet jamming, change them as no other alternatives are possible to assure you for long time.
Jammed Bathroom Drain
This problem is highly anticipated in case of crowd gathered during any function at your home. Hair bun can block the outlet water flow and in this case you must require a plumber to assist you.
Clogged sewage line
External garbage such as cotton rags, plastics, broom stick and other dust materials which mix with waste water anonymously can cause a dogged dam to resist a proper flow of water and put a sign of worry on your forehead. In this case you need a professional plumber to help you.
Readymade Solution
Now problem is where to go and find out these sanitary doctors easily in case of emergency. This is quite tricky, isn't it? Don't be much worry as many home services providing companies are there in online market with listing various home services such as Plumbing service, electrician, carpenter etc. To get the professional and trustworthy plumbers with in second you can book on EzHomeServices for better services.
As EzHomeServices brings a huge list of home services which serve through various certified and skilled pros within desired time slot and at desired location. EzHomeServices is one of renowned home solution providing company available in various cities over pan India.