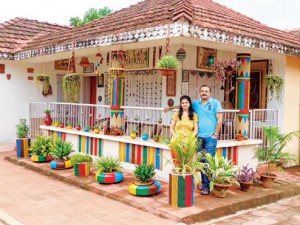 We all known off today's time in every home things get lot of broken household item and that we throw it every day like as cup, plate, stainless, pots etc. But he does not want to keep and everyone throw the broken household items are pretty sure that there a lot of broken household items that we. Now we say to you please stop do not throw the household items it can be useful materials of making something creative and useful at all. Trust us you will definitely think twice before throw away household items when you see these very creative ideas.
These are more step with more ideas which you can use to decorate home, your garden, room walls you can also make a cool storage furniture pieces, and you can implement it in organization and many more.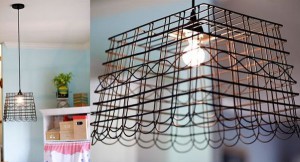 Old Wire Baskets used to light fixtures
Instead of sending those old wire baskets off to the dump, even when they are completely worn out, turn them into really attractive light fixtures. Even if the baskets have wires that have come loose or have holes in the bottom, you can use them to create the Anthropologist inspired light fixtures that will look great in the kitchen.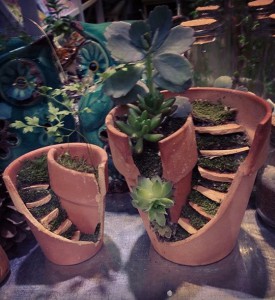 Garden Markers by broken pots
If you have terracotta pots that are a bit worse for wear, you don't have to throw them out. You can use them to make gorgeous garden markers. This even works if you only have one pot that's broken. Just take a few pieces and write the names of your flowers, herbs or veggies with magic marker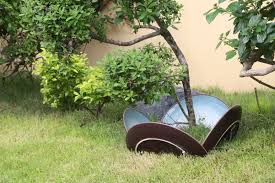 Make an art by Cracked Plates
This is a great project for plates that are actually broken into two or more pieces. You probably won't want to glue them back together if they're shattered but if you have just a few larger pieces, you can just glue them together in this manner and use them to decorate your walls.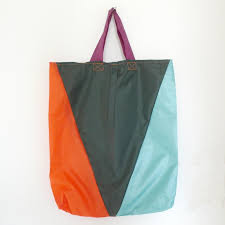 Create a Reusable Bag by Broken Umbrellas
When the metal in an umbrella breaks, it is normally time for the trashcan. Now however, you can use the fabric from that umbrella to create these really neat fordable reusable bags. There is a bit of sewing involved but overall, it is really easy to create these little bags and they fold up into a roll so you can tote them with you wherever you are going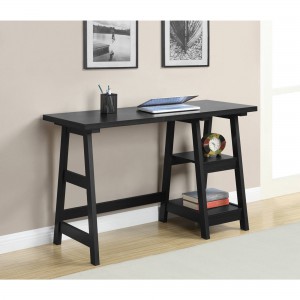 Broken table use to make for Two Desks
If you have a kitchen table that is scratched, broken or otherwise damaged or one that you just don't really need any longer, don't throw it out. Instead, use it to create two adorable wall desks that are sure to be a hit at your home.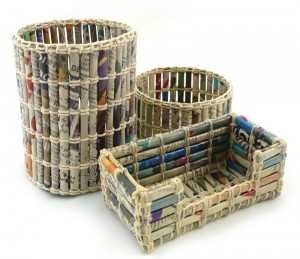 Make a Recycling Center from Old Basket
If you have a rather large basket that seems to be coming apart at the seams, you can re-purpose that basket into a great recycling center. The basket doesn't really need to be able to hold anything so holes in the bottom are perfectly fine.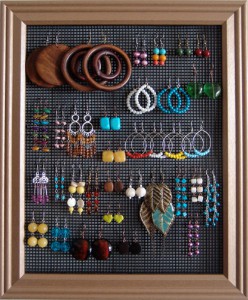 Make Earring holder from Turn a Broken Picture Frame
When you break the glass out of a picture frame, don't throw away the base. Instead, use it to create a gorgeous and very functional earring display. You'll need some sort of wire to hang your earrings on. Just run the wire across the frame and then hang up your earrings.

Broken Chairs to make hanger
If you have a rather small chair that seems to be coming at the seams, you can re-purpose that chair into a great top handle. The chair does not need to be able to hold anything so single holes the top and make the hang point are perfectly fine.

Make Lawn Swings from turn broken chairs
If you have a large chair in plastics and he is broken behind and while fully consolidation, but these are not in use. So make a lawn swings with in few times, take the chair and all sides of the rope tie and hang your lawn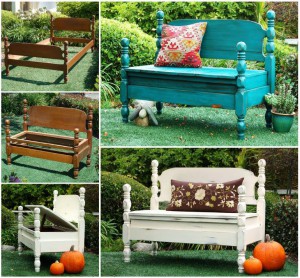 Make a bench from broken turn bed         
If you have turn bed and he is broke to any reason, and his furniture is still good and you do not want to throw, so you can make sitting bench. It's also nice in appearance and it is also in use to your furniture.
Breaking things is never fun and often means throwing out something before its time. You may have loads of broken tea cups, picture frames, furniture or other common household items that you think belong in the trash.
Follow these simple steps you can decorate your home, garden, lawn, etc. create to all and get a beautiful home…!