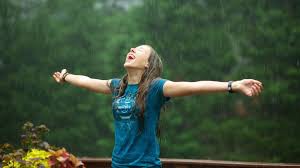 Monsoon is a season of joy, it is a very attractive and melodious time. But when it comes to human body this joy season sound no good at all and causes races, skin problems and majorly the Hair fall problem. Contaminated water of first rain   of the season is main reason behind hair fall and its weather in your hairs which absorbs hydrogen forming bonds which causes hair weakness and damaging. Monsoon or rainy season at it gives a refreshing touch to everything surrounding us. But these monsoons with sharp winds flow and air can cause damage to your long blonde beautiful hairs.
First of all, most important task is protecting to your own hairs from being damage. When you come into direct rain with bare head then your hair become harder after few times, so do clean your hair after rain to preserve their natural beauty.
Here below, we are going to mention some reason and solutions to keep your hair strong and shiny.
TIPs
Cover Up Your Hair While Raining Outside
You should protect your hair from dirty and sharp winds by covering them up with scarf and folds hairs with band or cap because pollution dirt of toll on your hairs. Monsoon rain makes your hair dry and sticky.
-> Give them Constant Massage with Prescribed Oil
In every week you should do once or twice time massage your hair in slowly and deep nursing on root with heat oil. Where it can get absorbed into the hair roots. It takes care well as your hair is very hard and dry in monsoon and rainy time.
-> Use quality shampoo and apply conditioner when necessary
If you have get wet in rain so your hairs. So, first thing you need to do soon after reach the home is rinse your hair with a mild natural shampoo and apply the conditioner after that. This maintain your hair soft and bright.
-> Comb Hairs when it Became Dry 
During Monsoon season hairs don't get dry easily due to humidity so, you shouldn't comb on your hair until it become dry.
 Home Remedies for Every Woman to Protect Hair: –
Use Aloe Vera gel on dry hair
Massage with hot oiling is a must
Give steam to your hair
Use Lemon juice to massage in root
Use Multani soil paste and then wash, twice in month.
Eat Fresh fruits and green vegetables