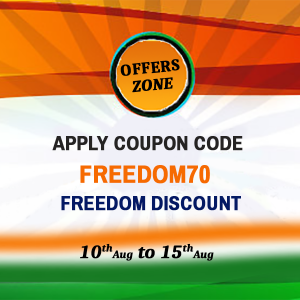 Independence Day is one of the biggest patriotic festival of India as on this day India got its freedom from British rule in 1947. And this day evening of 15 August 1947 to flag of India was unfurled by 'Pt. Jawaharlal Nehru' with proudly at Lal Kila, Delhi. A new day for life had been started as live young live free to the Indian Peoples. Whole country celebrated the day of 15th August as Independence Day by hoisting Tricolor and singing National anthem along with distributing sweets. Apart from this various community and organizations host cultural program on this day too. The country become painted in Tricolor to celebrate the grand occasion by heart, sharing love and cheering happiness.
There has been a lot works like cleaning your surroundings, lighting, painting is requiring before celebration at Government offices as well as private offices, school, Auditoriums and other places where event has to organized. You may also need Photograph session as well as Video shoot for your event too. So by scaling your tension down to earth, EzHomeServices brings online household services like Cleaning, Painting, Electrician, Pest control, Photography and many more services to up to your door steps.
Since its country's freedom week so EzHomeServices is celebrating this Independence Day in its own style by offering a big freedom sale to its customer. Now you can avail the flat discount of ₹70 on your any services booking till midnight of 15th August.
So, folks! hurry up and celebrate the Independence Day by cashing the Freedom discount opportunity from Ezhome services.
Live Young and Live Free! "Happy 70th Independence Day". Respect elders and love youngers .